Expressia Crowns 3 Provincial Champions
Monday, July 21, 2014
No stopping Expressia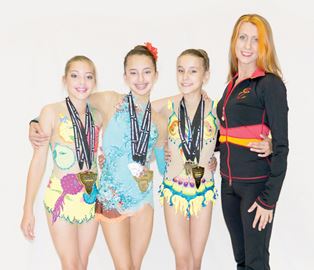 Provincial medallists
photo submitted
Coach Ludmilla Tolkachova (far right) poses with her three provincial champions (left to right): Abrianna Day, Renna Cukier and Sasha Tolkachova.
Cambridge Times
TORONTO - RGC Expressia had a very successful season this year, culminating in the crowning of three champions last month at Rhythmic Gymnastics Provincial Championships in Toronto.
The club had eight individual athletes competing and had more champions than any other club in the province. The three provincial gold medallists were Abrianna Day, 12, in 4A; Sasha Tolkachova, 11, in 4B; Renna Cukier, 14, in 5B.
In addition, Expressia's senior group won a silver medal and one provincial athlete competed at Rhythmfest, an invitational event held in conjunction with championships. In total, Expressia athletes brought home 22 medals – 14 gold, four silver and four bronze.
Other notable achievements were: Zara Malik, 13, first for rope, third all around level 4C; Madison Rovers, 13, first for ball, first for ribbon and third all around level 5B; Sara Rogers, 12, first place in ball, hoop, free and all around in level 4B Rhythmfest; Cynthia Shen, 8, fourth all around in Level 3A; Catherine Kondratenko, 9, bronze medal in rope in level 3C; Aleksandra Zinchenko, 12, fourth all around in level 4A.